You've probably heard of the project management triangle, a constant balancing act of speed, quality, and cost.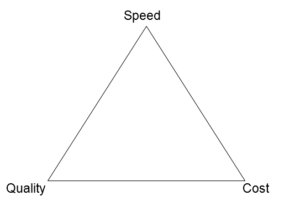 Conventional wisdom suggests you can only pick two of these variables at a time. For translation projects, you won't want to compromise quality, especially in high-stakes situations with labeling medical devices or writing a legal contract. Likewise, sometimes you need to prioritize speed due to deadlines for meeting regulatory requirements. This means organizations often think of translation projects as highly expensive endeavors.
But what if you don't have to compromise? What if you can have all three -- quick turnaround, high quality, and cost-effectiveness?
Language Solutions Partners (LSPs) have a variety of procedures in place to help clients achieve their translation goals in a cost-efficient manner. Here are some of the ways that working with an LSP can cut translation costs, without compromising speed or quality.
Centralize operations
When there are too many vendors involved in a project, costs can add up quickly. Think about everything that needs to be handled for your project. Is it a website that needs to be properly adapted for a new country, and will therefore need to address issues like mobile responsiveness? Or a translated technical manual that requires formatting with diagrams?
Choose an LSP that offers a full array of services in addition to translation and localization. Many LSPs can perform website or print formatting in-house, reducing the need for external graphic designers or web developers.
Use a CMS
A Content Management System (CMS) is usually thought of as a repository for web content. Wordpress is one of the most popular examples of a CMS. In language services circles, a CMS can do even more.
Choose a CMS that can be integrated with an LSP's translation workflow, used for authoring and editing content, and used to easily reuse translated content in different places and different formats such as HTML and PDF. A CMS saves costs by improving workflow and cutting down on time needed for repetitive tasks, like copying and pasting. Implementation can also be cost-effective if you choose an option that can be quickly deployed ("out-of-the-box") and does not have too many customizations.
Use Machine Translation
Machine translation (MT) drastically decreases the amount of time that human linguists spend on a project, decreasing project cost in return. LSPs encourage the use of translation memories, which store chunks of translated text (such as full sentences) that will be automatically translated for perfect or close matches within a new document. Similar to the boilerplate translated text stored by a CMS, translation memories are helpful with large projects that contain a lot of repetition.
In addition, translation glossaries store an index of specific terms that are expected to be used over and over again in a project — a company name, product names, industry-specific jargon — and plug in the translation to a new document when there is a match. Automatic (and reliable) translation tools like these reduce human labor, and thus cost.
However, to avoid costly mistakes, a human linguist must always review anything translated by MT.
Work with the same LSP
Think about the process of changing primary care physicians. You have to transfer your medical records from your previous doctor, build rapport with a new doctor, and bring them up to speed on your medical history.
The process is similar with using different LSPs — establishing new relationships, getting them familiar with your company, and sharing any relevant documentation. But if you develop a relationship with an LSP early on and you work well together, you won't have to pour resources into finding a new one.
You can skip many of the preliminaries and start the project's kickoff meeting much sooner. Do your research at the outset, and find an LSP you will be able to trust and work with in the long run.
Want to learn more about ways to complete a cost-efficient translation project? Contact ULG today to find the right solution for you.