Traveling to another country can be a daunting, yet exciting opportunity. The language, culture, currency, and more can all be challenging.
Luckily, with technology at our fingertips, anyone can find apps that help mitigate the language difficulties that come with travelling abroad. In the past, we've looked at apps that focus on teaching us languages as well as some designed for travel. Today, we'll be reviewing TripLingo—another app designed for travelers.
Basics of TripLingo
Triplingo has a plethora of features, many focused on business travel. Once you sign up, the free, basic version has access to most of these features, with the others stowed away behind a premium paywall, which features three levels of payment.
If using premium, a user can unlock access to over 2000+ phrases per language, unlimited voice translator use, audio lessons for languages, and more.
The app offers over a hundred destinations to choose from, where you can select your target country. When you select a country, you can download audio files for the country's primary language—although this feature is mostly for popular languages like Spanish, German, and Arabic.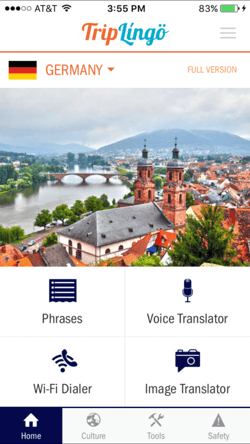 Phrasebook
One of the best parts of TripLingo, the phrasebook offers an extensive list of phrases divided into separate sections, such as "Just the Basics," "Eating & Drinking," and even "Compliments & Flirting". These phrases are perfect for quick, important questions and statements that might arise during a trip.
For the most commonly used languages, you can choose to say a phrase based on four levels—formal, casual, slang, and crazy. These levels are based on how formal or casual the phrases are in conversation.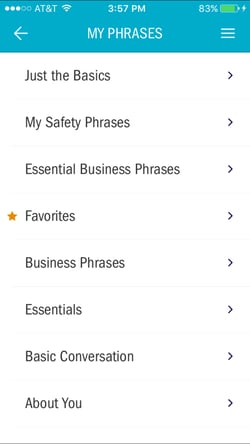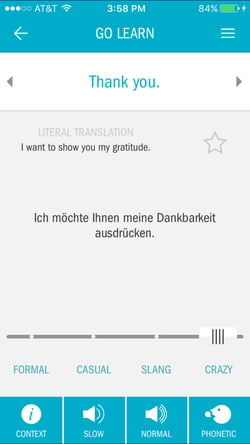 Voice Translator
The voice translator lets you speak a simple phrase or word into the microphone, and the app will translate it. You can also type it into a keyboard feature on the app, which will then translate the text. If something more complicated needs be translated, you can pay a fee to instantly call a live translator.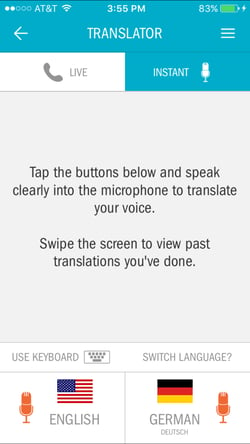 Image Translator
To deal with signs, menus, and text in general, TripLingo has an image translator. Simply take a picture of the text through the app, and TripLingo will translate it.
Wi-Fi Dialer
TripLingo lets you avoid roamer chargers by connecting to wi-fi for free calls to increase efficiency, a user can select country codes from a list, and they can access phone contacts.
Culture Guide
Etiquette, country info, travel tips, dining guides, and more are a part of TripLingo's culture guide. The sections have a lot of information within them, too, with the etiquette section containing sections about body language, dining, punctuality, taboos, language overview, and so on.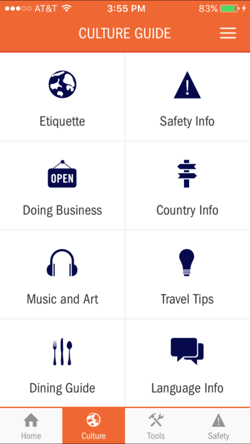 Travel Tools
Conversions, such as currency, length, weight, and temperature vary from country to country. As a result, TripLingo has implemented a "Conversions" section, nicely put into Travel Tools. This section also has a learning center dedicated to teaching how to speak the target language through audio lessons, flashcards, wordbanks, and more.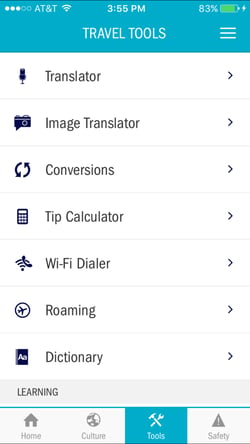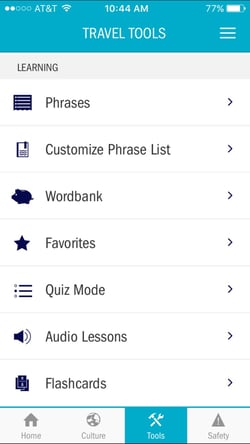 Safety
There's no telling what could happen in a foreign country, and TripLingo wants you to know how to handle any situation that springs up. The Safety section has general safety tips, emergency numbers, embassy information, medical terminology, and even a hospital directory.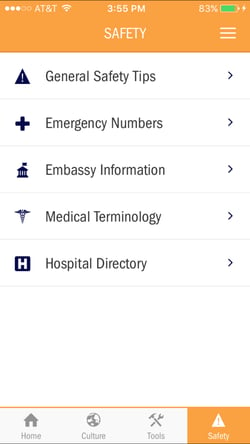 Final Impressions of TripLingo
Instead of spending hours googling basic, cursory questions about a country you'll be visiting, TripLingo does all of the work for you, condensing a large amount of information into an intuitive, expansive app. While there may be some issues with the translation accuracy, it good enough to get the gist of a conversation, and have the locals understand what you're saying.
Obviously, it's still important to learn the country's language instead of relying solely on a voice translator and a phrasebook, and TripLingo gives you the tools to do exactly that, with flashcards, pronunciation cards, and dictionaries all coming in handy.
Overall, this app is absolutely worth downloading, and can be a useful addition for a trip to any country in the world. While apps like Duolingo might be a better resource for actually learning a language, TripLingo can help you handle anything and everything when traveling.